Élisabeth Vonarburg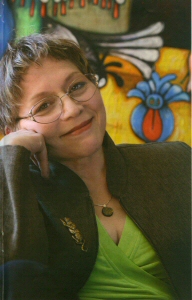 Born to life in 1947 (France), to reading in 1952 (myths, fairy tales, comics, adventure), to writing in 1958 (poetry) and to science-fiction in 1964 (at last!). Likes reading, music, movies, cats, skiing, good food and bad puns. Has taught French Literature and Creative Writing on and off at various universities in Quebec (since immigration, in 1973). Did and is still doing a lot of SF  translations from English to French (more recent one: Guy G. Kay's Le Fleuve des Étoiles — River of Stars) Despite a PhD. in Creative Writing (1987), is giving SF Writing Workshops since 1979, has been and is again a literary editor for the SF& F Quebecois magazine Solaris from 1979 on, and is now a "full-time writer" (since 1990). Is guilty of organizing the first Quebecois SF convention in 1979, and of recidiving three times after that.            
 About a dozen stories translated in English since 1986 (in the Canadian Tesseracts annual anthology) and the States (Amazing, Tomorrow). Three Canadian Casper Awards (now "Aurora Awards") for Best Short Story in French (1987: "La carte du Tendre", 1990, "Cogito", in the Canadian SF anthology Tesseracts 3, and "Ici des Tigres", 1991), three for Best Book in French (Histoire de la Princesse et du Dragon, 1991, Ailleurs et au Japon, 1992, Chroniques du Pays des Mères, 1993). Is editor, with translator Jane Brierley, of Tesseracts Québec, an anthology of Québécois SF which was published in 1996. Eight short stories collections published in French, (L'Oeil de la nuit, 1979, Ailleurs et au Japon, 1991, La Maison au bord de la mer, 2000, one in France, Janus, 1984). Several more stories in various French and Quebecois magazines over the years. Eight short stories collections published in French, (L'Oeil de la nuit, 1979, the odd one in France, Janus, 1984, Ailleurs et au Japon, 1991, La Maison au bord de la mer, 2000, Le Jeu des coquilles de Nautilus, 2003, Sang de Pierre, 2009, and recently La Musique du soleil (2013).
First novel published in France in 1981, (Le Silence de la Cité/Silent City), received several awards in 1982, among which le Grand Prix de la SF Française. As The Silent City, it has been published in Canada in 1986 (Press Porcépic), in the UK in 1990 (Women's Press), and in the States (1992, Bantam). In the Mothers' Land, another SF novel, has been published simultaneously in French (Chroniques du Pays des Mères) and in English (Bantam, 1992, as In the Mothers' Land; Beach Holme, Canada, 1993, as The Maerlande Chronicles); it has received the 1993 Philip K. Dick's Special Award and was a finalist of the Tiptree Award (USA), as well as being the 1993 winner of the Grand Prix Logidec de la SF québécoise and other Québécois and Canadian awards (Boréal, Aurora). A third SF novel, The Reluctant Voyagers, has been published in the States by Bantam and in Canada in 1996 by Tesseract Books, (in French, 1994, Les Voyageurs malgré eux, new edition 2009) it was a finalist of the 1995 P.K. Dick Award. The two first books of Tyranaël, a five books SF saga, published in 1996 (Les Rêves de la Mer, Le Jeu de la perfection), have received various awards in (Grand Prix de la SF québécoise 1997, Prix Boréal 1997, et al.). The three other books were published in 1997 (Mon Frère l'ombre, L'Autre Rivage, La Mer allée avec le soleil). One fantasy novel for children in Québec in 1993, Les Contes de la Chatte Rouge (The Red Cat's Tales) and one science fiction and fantasy book in 1994, Contes & Légendes de Tyranaël (Tales from Tyranaël).Another fantasy book for children, L'Enfant des neiges, in  2009.  The Slow Engines of Time, a collection of eight translated stories (half of them translated by the author) has been published by Tesseract Books, (2001, Edmonton, Alberta, Canada). Another collection, Blood Out of A Stone, was published by Nanopress in 2009. Another five books novel was published from 2005 to 2007, Reine de Mémoire, a parallel universe/historical fantasy of sorts. Or SF if you squint while reading. Most recent novel is of the everything-and-the-kitchen-sink kind, but mostly SF, Hôtel Olympia.
After several additional awards given to various books of the latest series, (Reine de Mémoire),  (Grand Prix de la Science-fiction et du Fantastique québécois, 2006,  book 1 et 2, Prix Boréal 2006 and  2007  (Best Novel) and Aurora Award, Best novel in French, 2007), the hapless author received simultaneously the Prix d'excellence à la création artistique en région, awarded by the Conseil des Arts & Lettres du Québec on its twentieth anniversary, in 2007, and the French Prix Cyrano 2007, as well as, later, in 2013, the first "Hommage Visionnaire", a new Quebecois SF award (all lifetime achievement awards, and slightly premature, she hopes.)